Most Promising Director Mohammed Yahaya
Mr Mohammed Yahaya, Director of New Flint Offshore & Marine Pte Ltd, mentions that entrepreneurship is a very big challenge for anyone to undertake. In order to be one the person has to be able to multitask and manage all aspects of the business. However, for Mr Mohammed, this is one of the reasons that has led him to where he is now.
Like many entrepreneurs, the path to success is not an easy journey. During the early days, Mohammed spent most of his time working long hours. At times he even stayed out under the hot scorching sun at the shipyard to ensure that the jobs were carried out correctly. He was always chasing after the Project or the Yard Manager to ensure that they will not stop giving projects to his Company, no matter how small the job.
The main issue that Mohammed faced during the early days was shortage of manpower of people with expertise. To overcome this, he decided to employ foreign talents. Being newcomers at that time, New Flint was yet to be known and had a relatively low customer base.
Through sheer hard work, Mohammed and his team combated this problem. Slowly they saw improvement and few clients came forward to seek advice and services from New Flint.
Seeing the huge increase in customer confidence after their initial projects, gave him more courage to move even further. Mohammed took a fiercer step ahead by venturing in this business overseas and always thought, "I am not going to stop for now, there are more opportunities out there waiting."
After completing his studies and receiving diploma in Travel, Mohammed has always shown the interest in setting up a business on his own. However, never had he thought of being involved in the Marine & Offshore industry. He grabbed the chance offered by a relative to learn a thing or two in this line. He picked up the ropes of this business and at the same time Mohammed went to understudy and did a research in this industry.
"I REALISE THAT IN ORDER TO GAIN SUCCESS IN THIS BUSINESS, I NEED ALL THE ASSISTANCE THAT I CAN GET FROM ALL OF MY EMPLOYEES." THUS, HE NEVER NEGLECTS THOSE WHO APPROACH HIM WHENEVER THEY FACE PROBLEMS. MOHAMMED SAYS, "TAKE GOOD CARE OF YOUR PEOPLE AND THEY WILL TAKE CARE OF YOUR BUSINESS."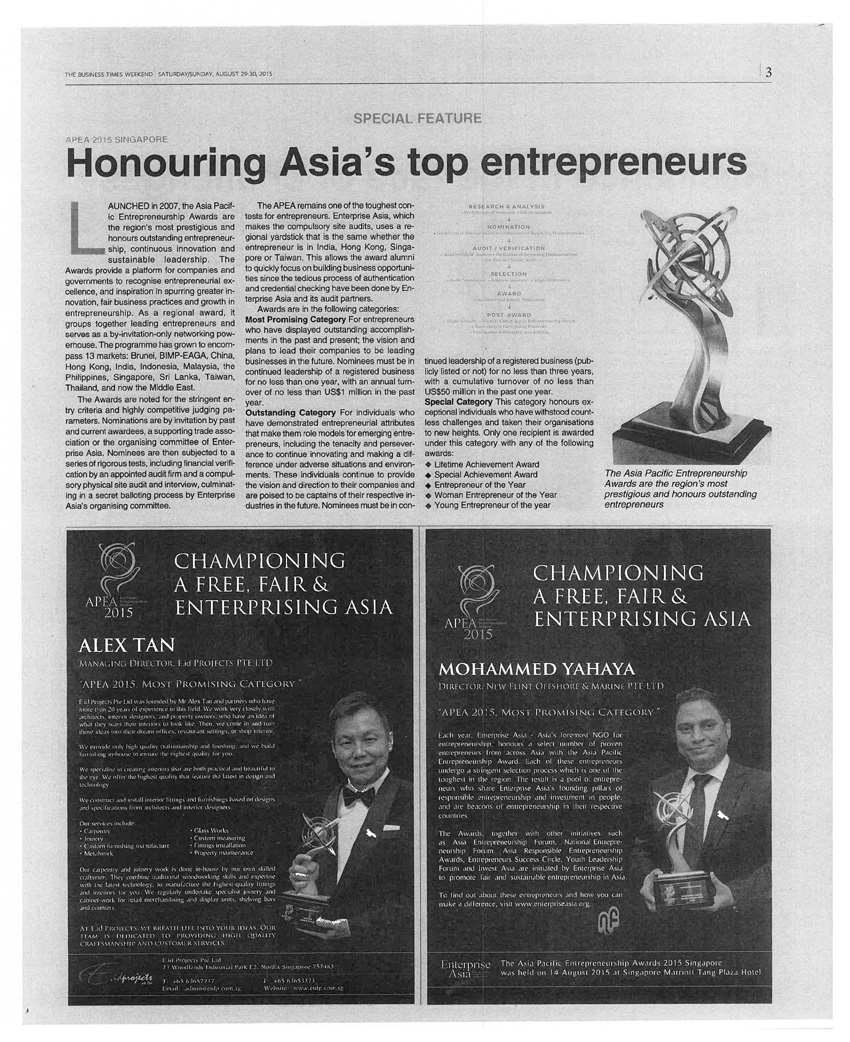 2008 Incorporate New Flint Offshore & Marine Pte Ltd and soon after venture into Indonesia Market
2012 Bought a workshop space in Kawasan Bintang Industry Batam, Indonesia increasing the clientele base for New Flint Group Company
2014 After getting the first project of oil & gas refinery, the Company has decided to jump into this industry and have been receiving more projects ever since
Realising that there are not many people were into this business, Mohammed has decided to give it a shot. After incorporating New Flint Offshore & Marine Pte Ltd in 2008, in the same year New Flint founded one more innovation with PT FARA'S Shipbuilding & Shiprepairs in Batam, Indonesia. PT FARA'S in Batam is the leading Shipbuilding Company with manpower of 350.
In Batam, the Company bought a workshop area of 876 sq meters, fully equipped with a five tonne overhead crane and all kinds of machinery such as lathe machine, mill machine, drill etc. Over here, Mohammed has specified this area to be able to specializes in steel work, piping, chemical cleaning, flushing, mechanical and electrical section.
After the success of this first workshop, Mohammed had also recently bought an area that will be the second workshop space. With more projects coming in, this area will be able to accommodate all the latest projects that have been awarded to New Flint & PT Fara's. This latest workshop, with an area of 5250 sq meters, will be an area where open fabrication can be done. With facilities of three tonne and five tonne forklifts, Mohammed will be adding in more machinery to facilitate the activities there.
Over the years, the Company has had a long list of satisfied clients such as PT ASL Shipyard, PaxOcean, PT Idros Services, PT Wasco Engineering Indonesia, PT Bintan Offshore (Tj. Pinang), PT Bandar Abadi Shipyard, Global Process System, PT VME Process, RCS Engineering, Rotating Offshore Solutions Pte Ltd and many others. With such success, in 2013, New Flint became a group of Companies. Under his Management, New Flint Group managed to expand and created few other companies under the wing of New Flint.
In 2013 New Flint received an opportunity to venture business into Tanjong Pinang and have successfully secured a position of Resident Contractor with Bintan Offshore. With its aggressiveness in always hunting for opportunity, the Company is now currently involved with an oil and gas refinery project at Tanjong Balai with the Indian Oil Tanking Company. Being a Director and always busy having to juggle travelling from Singapore and different parts of Indonesia does not stop Mohammed from getting involved with the daily operations. He will spend time with his employees mentoring them whenever needed, be it in the office or at the jobsite.
"I realise that in order to gain success in this business, I need all the assistance that I can get from all of my employees." Thus, he never neglects those who approach him whenever they face problems. Mohammed says, "Take good care of your people and they will take care of your business."
Looking ahead Mohammed's mission is to strategically develop and execute the business profitably with safety and innovations through total integration of solutions and quality. Definitely with integrity and extensive experience, they are ready to provide total support to their customers.
With the stated mission, Mohammed has never failed to encourage his staff to upgrade themselves by going for courses in order to equip themselves and progress together with the Company.
Even with his busy schedule, Mohammed is still able to organise a small committee for social work. Some of the community works that the Company has organised before include collecting children story books and donating these to Darul Ihsan Childrens' Home. Last year the committee ran a donation drive to collect funds for the building of a school in Batam, Indonesia.
With the Company running more smoothly now, Mohammed is able to have more quality time with his family and to pursue his love for golf. At times, Mohammed organises gatherings, such as barbeque nights or beach day, for the employees to get together as a family.
New Flint's vision is to be the 'PREFERRED PARTNER' in providing total solutions for the Offshore & Marine companies. The vision statement clearly indicates that the company aims to be known as a company that provides everything under one roof for all Offshore & Marine companies. This does not only refer to build and repair, but also includes all kinds of servicing of all types of vessels, oil rigs and offshore platforms.